Cleaning and maintaining aluminium window shutters correctly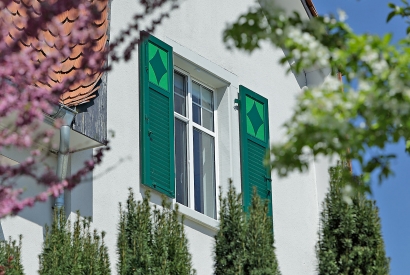 28.10.2016 — Blog
Window shutters made out of aluminium are exposed to wind and weather all year round and must therefore be cleaned regularly. But what does cleaning and maintaining aluminium shutters entail? We have put together a few important tips for you.
Aluminium is one of the low-maintenance light metals which play an important role in modern architecture. There are many possible applications in both indoor and outdoor areas. Window shutters made out of aluminium are popular because they require little maintenance and boast a long service life. Unlike wooden window shutters, coated aluminium shutters do not require any repainting. The high-quality powder coating protects the window shutters from weathering and makes them particularly durable. Cleaning and maintaining aluminium shutters correctly also improves their appearance.
Powder-coated aluminium window shutters
require neutral cleaning agents
The powder coating on aluminium window shutters ensures that dirt and dust deposits do not stick to the surface and are mostly washed away next time it rains. Because it complies with QUALICOAT, QUALIDECO and GSB guidelines, EHRET can guarantee maximum quality and coverage, as well as long-lasting fade resistance. The window shutters are protected against weathering and scratches. For extreme conditions, such as those found in areas close to the sea, swimming pools or in the chemicals industry, EHRET has developed Ocean Line plus, a special pre-treatment that provides additional protection for window shutters.
In areas with low environmental pollution, aluminium window shutters do not require much maintenance. However, regular thorough cleaning of the surface coating ensures that the shutters look brand new for a long time. Loose dirt deposits can be wiped away easily with warm water and a soft sponge. For stubborn dirt, you can also use neutral cleaning agents (e.g. normal washing-up liquid) which do not attack aluminium.
Cleaning tip:
The EHRET surface cleaning set for powder-coated aluminium window shutters is particularly environmentally friendly and economical. In the first step, dirt is loosened and removed. Mild surface damage can then be repaired with a polish. Finally, the surface is resealed. Alongside the cleaning agent, the polish and the surface sealant, the set also contains suitable cloths for the ideal result.
Important: Never use chemical cleaning agents or abrasive powder to clean the window shutters. These are bade for the surface of aluminium window shutters because the abrasiveness damages the paint surface.
Maintaining and caring for suspension and electric drives
The brackets and hinges on which the aluminium window shutter is suspended should be checked regularly. You should check if the brackets and hinges are adequately lubricated around once a year. This does not apply to the crank drives (inside openers). They generally do not require maintenance. The electric drives will run reliably for years as long as they are maintained and adjusted regularly by a specialist.
Would you like to find out more about EHRET sliding shutters? Then get in touch.