Newly established EHRET customer advisory council meets for the first time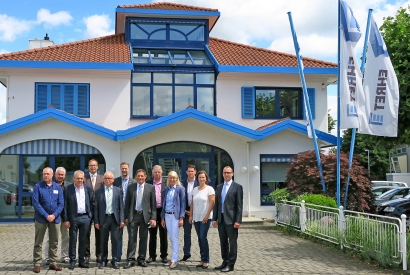 14.07.2016 — News
Under the motto "Sharing thoughts – Engaging in dialogue – Making a difference", EHRET GmbH intends to involve its customers more in the decisions made by the business in the future. The customer advisory council established for this purpose, which is made up of EHRET dealers with many years' experience drawn from all of the countries in which the company is active, held its first official meeting in Mahlberg, Germany, on 15 July 2016.
"We intend to use the new council as a means to actively involve our customers in the ongoing development of our products and services. This will enable us to address the needs of our customers in even greater depth and continuously improve our offering by adapting it to meet those needs," explains Andreas Schnaase, EHRET CSO.
By holding council meetings twice a year henceforth, EHRET will also be giving its members a platform for dialogue.
Manuel Meier, EHRET CEO, considers the first meeting of the customer advisory council to have been a resounding success: "There were a number of workshops providing opportunities for open dialogue on a level footing." The members of the customer advisory council gave their verdict on projects from a customer's point of view, as well as submitting ideas and suggestions for how products and services should be designed and delivered. Manuel Meier: "Critical voices were also listened to. After all, this is the only way we can continue to develop and offer an even better response to the needs of dealers and customers."
We see this as a clear commitment from EHRET GmbH to taking on a pioneering role as the market leader not only in the field of product innovations but also where customer focus is concerned.