EHRET Skills Day 2017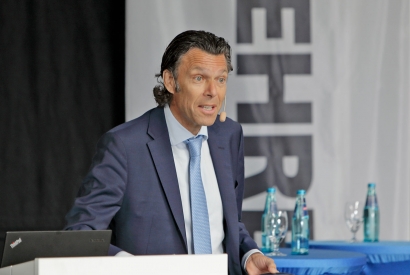 10.05.2017 — Press releases
Last Friday it was that time again, as guests turned out in numbers to accept EHRET's invitation to its 2017 Skills Day. Around 150 customers, retailers and journalists from Germany, France, Luxembourg, Austria and Switzerland spent an entertaining and informative day at EHRET's premises.
Guests were impressed by the diverse agenda for the day. Former FIFA and UEFA referee Urs Meier inspired listeners with his keynote speech "Between two sides – decision-making under pressure". A gifted speaker, Meier addressed the major questions arising in the decision-making process with humour and not a little self-irony, drawing amusing parallels between football and (management) decisions to be made by retailers and EHRET. "I found the parallels between football and the decisions I have to make in the course of managing my business fascinating," said one visitor afterwards.
After the keynote speech, Manuel Meier, CEO of EHRET, joined Urs Meier for a panel discussion entitled "Meier versus Meier", asking the question "Who are the winners and losers in decisions about the use of new technologies?" Thanks to the lively participation of the guests, the discussion was a fascinating one.
Tours of the production facilities gave guests a unique opportunity to look behind the scenes at EHRET, experiencing first-hand the exciting work that goes on in aluminium processing, all the way from raw material to finished product. EHRET's employees generously allowed the visitors to look over their shoulders and spoke proudly about their work in production.
During the lunch break there was time for interesting dialogue – an opportunity not always afforded during the hustle and bustle of everyday routines. A game to test footballing skills made by EHRET from aluminium with a decorative finish provided the setting for a competition, as well as showcasing the versatile way in which aluminium processing techniques can be deployed.
The Skills Day drew to a close with the lucky winner being presented with first prize by Manuel Meier, who then bid farewell to the guests. We would like to thank all of our guests for their attendance and we hope to see them again soon at EHRET.