New sawing centre for EHRET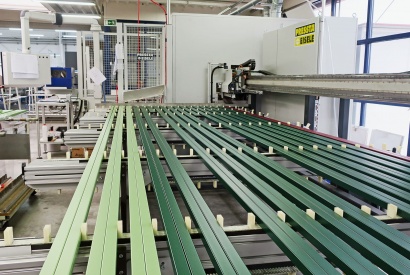 29.05.2018 — Press releases
The new sawing centre for cutting and drilling aluminium profiles at EHRET GmbH has been in operation since May 2017. The automatic sawing plant replaces two legacy machines and is part of the window shutter specialist's investment in the future of the company.
By putting the new system into operation, a number of processes could be optimised and future-proofed over the last year. At the same time, the new plant was integrated into the existing processes. After being powder coated with more than 4,000 colours, the window shutters are individually cut to size and then assembled in the assembly department. The new machine at the sawing centre is linked to the ERP system to not only ensure more efficiency and less fault-related recoatings, but also greater sustainability through automatic data transmission. This enhances the efficiency and flexibility of the production of each unique sash.
 "It allows us to continue to guarantee our customers impeccable quality and short delivery times – even when order numbers are high", says Head of Production Uwe Fossler.
The new plant ensures continuous operation and can be operated in three shifts, depending on capacity utilisation.
With over 390 employees, EHRET GmbH is the leading specialist for aluminium shutters in Europe and will be celebrating its 50th anniversary in September 2018.